TOWN is led by its founding directors, Jonny Anstead and Neil Murphy, who established the business in 2014. Jonny and Neil worked together at Beyond Green between 2007 and 2014 and have a combined 20 years' experience of planning and development for residential-led mixed-use places gained in both advisory and developer capacity and encompassing urban regeneration and large-scale urban extensions.
The directors work in tandem to set the direction of the business, the commercial framework and design vision for each TOWN project, and oversee all projects from conception to delivery.
JONNY ANSTEAD.
Jonny began his career at Locum Consulting (later Colliers CRE), where he worked on regional tourism, regeneration and economic development strategies and city master planning projects. Joining Beyond Green in 2005, he was instrumental in the company's transition from sustainability consultant to land developer and led the acquisition, funding and early stage planning phases for a number of major strategic land opportunities. Jonny holds a first-class modern languages degree from Cambridge University and is a professional member of the Prince's Foundation for Building Community.
Jonny takes the lead on the commercial framework for TOWN projects including financial appraisal and funding, land acquisition and sales.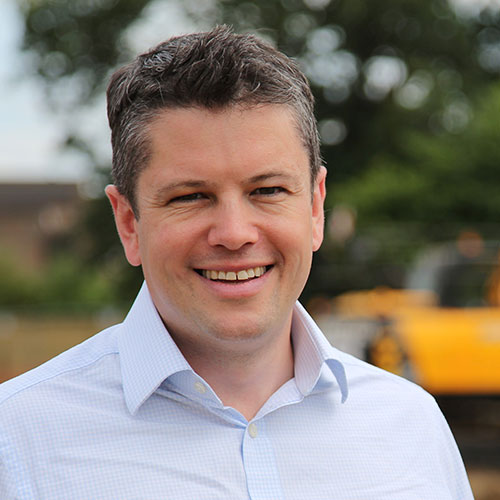 NEIL MURPHY.
Neil started his career at HM Treasury, becoming a senior policy advisor and private secretary to a Cabinet minister. From 2005 to 2007 he was seconded as economic advisor to Newcastle City Council. Joining Beyond Green in 2007, Neil worked on city strategy projects before becoming planning director for the company's development arm, securing a strategic allocation and planning consent for Beeston Park, a 3,500-home sustainable urban extension of Norwich. Neil holds an honours degree in politics, philosophy and economics from the University of Oxford and is an academician of the Academy of Urbanism.
Neil takes the lead on project delivery encompassing design development, planning and construction procurement.
MARKETA NOSALOVA, DEVELOPMENT MANAGER.
Marketa started her career as a consultant at Fourth Street where she advised on business planning and strategy with a focus on property development projects in the culture, leisure and sports sectors. In 2015 Marketa joined CIT Group, a real estate investor and developer, where she worked on the analysis, financial modelling and funding of new opportunities and ongoing projects. Marketa holds a MSc degree in Comparative Political Economy from the London School of Economics. She is a member of the Urban Land Institute and the Academy of Urbanism.
MIKE BODKIN, HEAD OF PLANNING.
Mike is a Chartered Town Planner with over 25 years' experience in planning and regeneration. Working in private practice with Peter Brett Associates and then Strutt & Parker, Mike previously worked for over 20 years for Kent County Council, where he became Head of Growth Areas and Development, in which role he led regeneration and economic development in the Thames Gateway and Ashford Growth Areas. Mike is an experienced coordinator of multi-disciplinary design teams and has a particularly strong understanding of the relationship between planning issues and development viability.
Mike plays a leading role in projects with a strong planning angle, such as Beeston Park and Pincents Lane, as well as in the scoping and appraisal of new projects.
RAY MILLS, NON-EXECUTIVE DIRECTOR.
Ray Mills is a member of the TOWN board and provides strategic advice on project origination, finance and business development. Ray is a former Partner in PricewaterhouseCoopers (PwC) Corporate Finance, where he led the Local Government and Social Infrastructure team. Ray has over 30 years' experience advising public and private sector clients in the areas of regeneration, infrastructure finance and housing development. He was previously Partner in PWC's public-private advisory team where he led the division's real estate and regeneration group, and as PWC's Head of Infrastructure and Government.
Ray brings great strategic and investment experience as well as strong grounding in structuring innovative relationships with funding and development partners.