HOMES. STREETS. NEIGHBOURHOODS.
WE ARE TOWN.
WE PLAN AND DELIVER NEW PIECES OF TOWN: HOMES, STREETS AND NEIGHBOURHOODS. OUR PURPOSE IS TO MAKE PLACES PEOPLE LOVE.
TOWN is a development company. We make places with distinctive character, but which respect and complement their surroundings. We design streets to encourage the features of traditional town life: walking, social contact and exchange. TOWN create places that are urban, but with nature all around. And we combine the best of the new: contemporary design, modern materials and high environmental performance – with the best of the old: solidity, spaciousness and light.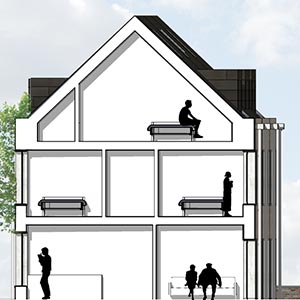 WHAT MAKES TOWN DIFFERENT?
TOWN's approach is based on a few simple principles about what makes make good places – principles observable in good parts of towns and cities everywhere.

DESIGN YOUR HOME
TOWN is a custom build developer. We offer customers extensive design freedom when buying a new home, but without the complication of building it themselves.

OUR PROJECTS
From delivering 42-home cohousing schemes in Cambridge to planning a 3,500-home sustainable urban extension to Norwich. You can find out more about TOWN's projects here.
FEATURED
MARMALADE LANE
TOWN's first development, Marmalade Lane, is Cambridge's first cohousing community. Made up of 42 custom designed homes complemented by first-class shared facilities, it will be a place of neighbourliness and community spirit.
We're looking for new Development Managers! TOWN's expanding portfolio of projects means we are looking to grow our team. We're looking for two Development Managers to spearhead our new [...]
Love Wolverton Ltd. has completed the acquisition of the Agora Centre, clearing another major hurdle to the long-awaited regeneration of the prominent Wolverton town centre site. The company, a [...]
Press release - New homes, healthcare hub and public park for Tilehurst Plans feature 40% affordable housing (106 homes) Includes a 4,800 sq ft healthcare hub A new 17-acre [...]